Your Trucking, Warehouse & Shipping Supply Company
Free Shipping on Orders of $150 or More!
TRUCK DRIVER
SAFETY VESTS
USA Fleet Supply offers a full line of Truck Driver reflective, Hi-Viz high visibility safety vests and shirts.
Stay in the spotlight with a bright florescent safety vest, long sleeved or short sleeved t-shirt. Be safe by letting other drivers see you while in or out of your truck.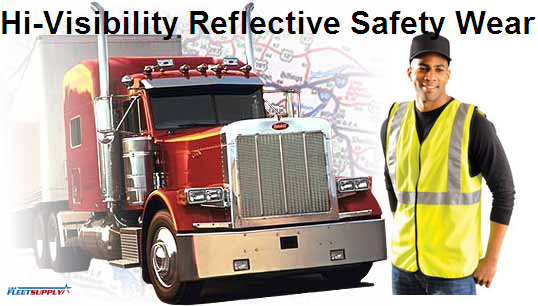 Truck driver reflective safety vests will shine bright in the headlights or streetlights. Every professional truck driver should be wearing a Hi-Viz safety vest while on the job.
ANSI compliant safety vests, florescent lime, yellow and orange safety vests. Our Class 2 and Class 3 trucking safety vests include 1, 2 or 3 rows of horizontal or diagonal reflective tape sewn in for high visibility at night.
Get 360 degree coverage, let other drivers see you from any angle. Specify your size when ordering. Truck driver reflective safety vests come in small, medium, large, x-large, xx-large and xxx-large.
Your Cart

Shopping cart
Your Account

Login Status
Not logged in