Your Trucking, Warehouse & Shipping Supply Company
Free Shipping on Orders of $150 or More!
BILL OF
LADING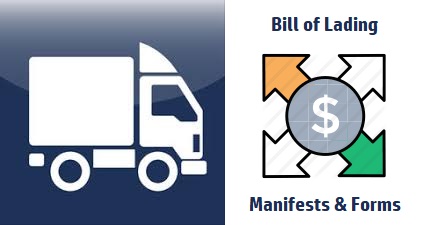 The Straight Bill of Lading form is used when shipping standard commodities, hazardous materials or combinations thereof. Non-hazardous materials shipping form, hazardous materials shipping form, or combination shipping forms. The Bill of Lading is issued by a carrier, which details a shipment of merchandise, gives title, and requires a carrier to deliver the merchandise to the appropriate party.
View our full line of Bill of Lading Forms
The Bill of lading is one of the most important documents in the process of shipping. To ship any goods, a bill of lading is required and acts as a receipt and a contract. A Bill of Lading legally shows the carrier has received the freight as described and is obligated to deliver the freight and in good condition. The information in the bill of lading is critical. It directs the actions of personnel along the route of the shipment where it is going, the piece count, how it is billed and how it is to be handled on the dock and on the trailers.

The Straight Bill of Lading forms can be used for shipping both hazardous materials and non-hazardous materials. These forms can be used to ship standard commodities or a combination of standard commodities and hazmat material. We offer several types of forms. 1 part, 2 part, 3 part and 4 part forms with carbon as well as carbonless forms. Forms are available in 8.5" x 8.5" snap-out. We offer bulk pricing as well as single form pricing. We offer Laser forms as well as Canada Customs Invoice manifest forms. our Bill of lading forms help to meet the DOT requirements for proper documentation of shipments. Use the Straight Bill of Lading form to document both COD and paid commodity shipments to meet DOT regulations. Our forms can be used to ship by truck, rail, air or water. We have many Bill of Lading short forms to choose from. Our forms are easy to read and include space for noting carrier, consignee, package description and costs
Some of our most popular Bill of Lading Forms
Your Cart

Shopping cart
Your Account

Login Status
Not logged in